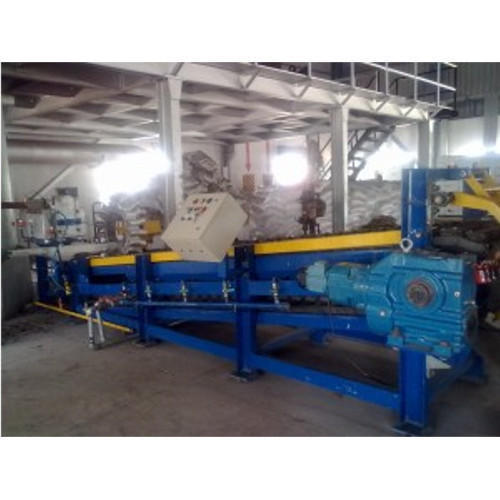 Ingot Casting Machines
Product Code : EROZ 01
Product Description
Lead Smelting, Recycling and Refining Plants from Used Lead Acid Batteries with Mini Blast & Rotary
EROZ ENVIRON ENGINEER PRIVATE LIMITED is manufacturer and exporter in India, headed by Capt. Anil Kumar Verma in the capacity of Managing Director. He is serving the industry Since last more than 25 Years and globaly recognised and established name for Metal Recycling for Ferrous and non ferrous , Specially for Turnkey Solutions for Lead Smelting- Recycling Plants, Aluminium, Zinc, Copper and Brass upto Erection and Commisioning upto Successful trial production of the Unit under the supervision of experienced engineer from the trade..

Our Product range:

Single Mini Blast Furnace
Double mIni Blast Furnace
Horizontal Rotary Furnaces Capacity
2 MTon / Batch, input of raw material
3 MTon / Batch, input of raw material
5 MTon / Batch, input of raw material
7.5 MTon / Batch, input of raw material
10 MTon / Batch, input of raw material
Universal Tilting Rotary Furnace ( UTRF) for Non Ferrous Metals
Universal tilting rotary furnace (UTRF) Input Capacity 2 Cubic Meter to 10 Cubic Meter for Aluminium , Lead, Copper and Zinc for secondary recycling
Refining Pots (Kettle) Capacity
5 MTon , 10 MTon, 15 MTon, 20 MTon, 25MTon, 30MTon, 35MTon, 40MTon and 50MTon along with factory fitted refractory or at sight.
500 Kgs., 750 Kgs., 1000 Kgs. and 1500 Kgs (Trolley Fitted and basket type to Operate through Overhead Crane)
Fugitive Emission Control Systems for Rotary Furnace and Refinning Pots to Capture Fumes from Rotary Charging and Tapping and Capturing from Refining Pot.
We manufacture fugitive emission control system of Capacity 8000 Cmh to 30000 Cmh
Ingot Casting Machines: Semi and Fully Automatic Version
Capacity 10 Ton /hr. and 15 Ton /hr.
Battery Cutting Machine Semi Automatic
Effluent Traetment Plant for Acid neutralization and Crate Washing
Red Lead Plant with Barton Pot

Our esteemed clients can avail from us a premium quality range of Ingot Casting Machines. The offered moulds are manufactured using innovative techniques and optimum quality basic material. These moulds are available in various specifications as per the needs of our clients. Provided moulds are checked at various quality parameters by our quality experts to avoid any kind of flaw.

Contact Us
Regd.Office & Works: 20-D, Industrial Growth Center, Mansa Road, Bathinda, Punjab, 151002, India
Phone :2430051