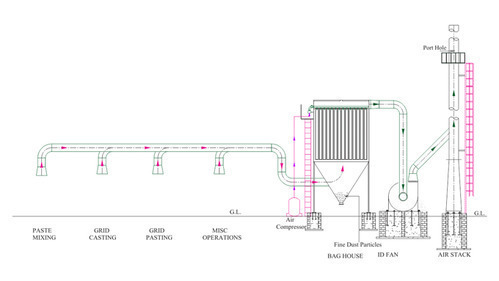 Lead Pollution Control System
Product Code : EROZ 11
Product Description
We are engaged in manufacturing and exporting wide gamut of Lead Pollution Control System. This is used in the treatment of effluent gases, which generates by reduction / smelting operation. It is available in numerous models to meet the needs of our valued customers. It is designed and tested in house at various degree of operations on various atmospheric conditions. Further, this Lead Pollution Control System is manufactured in accordance with set industry norms by our deft team of experts with the use of optimum quality materials.
Features:
Excellent functionality

Negligible maintenance

Power efficient

Lead Acid Battery manufacturing consists of various stages which broadly involve (after producing or receiving lead oxide):



Paste Mixing
Grid Casting
Grid Pasting & Curing
Hydrosetting, parting & enveloping
Stacking, grouping & intercell welding
Formation
Exposure of workmen to lead during all or any of the processes outlined above exceeds the prescribed standards if appropriate equipment in this respect is not installed at any Battery Manufacturing Unit.
All of the above processes, some more than others, involve release of lead particles or fumes into the environment.
Pollution from the above processes can be grouped into two possible types, viz:
Lead Oxide becomes airborne and there is Particulate Pollution
Fumes are generated and there is Gaseous Pollution
While first five of the above listed broad stages fall in the ambit of particulate pollution, last one is the cause for gaseous pollution. Of those classified under particulate pollution, only Paste Mixing & Grid Pasting are the major source of the same.
To control the pollution generated in these operations, suitable Air Pollution Control Device are to be installed. These are commonly also called Ventilation Systems or Fumes Extraction Systems etc.
They have to be selected based on many factors which include:
Size of the operations
Physical layout of the unit
Relative location of different points of generation of pollution
Particular processes to be covered
Broadly, on the basis of nature of pollutants involved, the Air Pollution Control Device can be dealing with Non-corrosive or Corrosive gas streams. They are hence, designed accordingly.
Contact Us
Regd.Office & Works: 20-D, Industrial Growth Center, Mansa Road, Bathinda, Punjab, 151002, India
Phone :2430051