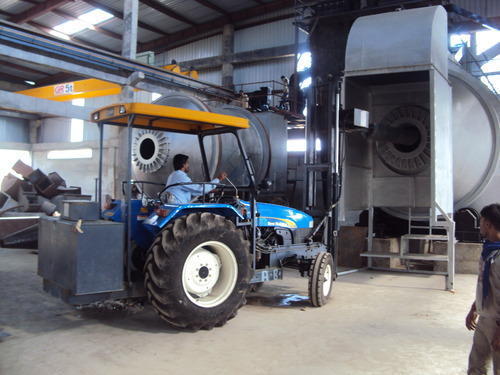 Lead Smelting Plant
Product Code : EROZ 13
Product Description
Since our inception, we are instrumental in manufacturing and exporting high grade Lead Smelting Plant. This is fully integrated with pollution control modules and can be configured for a wide range of battery recycling capacities. The offered plant works with both primary and secondary lead. It is manufactured under the stern observation of our team using premium grade materials and pioneering technology. Clients can avail this Lead Smelting Plant from us in diverse specifications at marginal prices.
Features:
Low power consumption

Robust construction

Long operational life
About Lead
Lead Acid Battery Recycling (Secondary recycling)
Lead Acid Battery Recycling: Major source of lead is from recycling of ULAB (used lead acid batteries)
About Lead Acid Batteries: Lead-acid battery has long been the most widely used rechargeable portable power source. Most such batteries are constructed of lead plates, or grids, where one of the grids, the positive electrode, is coated with lead dioxide in a particular crystalline form, along with additives such as calcium lignosulfate. The electrolyte, composed of sulfuric acid, participates in the electrode reactions where lead sulfate is formed and carries current in moving ions. Recent estimates show that in terms of capacity in use (watt-hours), the lead-acid battery has 20 times as much capacity as either the nickel-cadmium or nickel-iron battery.
Used Lead Acid Battery Secondary Recycling/ Smelting/ Refining Technology
1. Battery cutting/crushing
1.1 Battery Cutting Machine
1.2 Battery Crushing and Hydro Separation Plant
Lead Smelting/Recycling Plant
2.1 Double Mini Blast Furnace with Air Pollution Control Device and Accessories
2.2 Rotary Furnace with Air Pollution Control Device and Accessories cap 2 Ton/batch to 10 Ton/batch of raw material input.
2.3 Universal Tilting Rotary Furnace along with accessories cap. 5 Ton /Batch to 15 Ton/batch of raw material input.
2.4 Rotary charging device. There are three types of Rotary Loading Devices available (a) Vibro type
(b) Fork Lift type
( c )Tractor fitted loading device.
Lead Remelting / Refining /Alloying
3.1 Refining Pots (Kettle) for Remelting of crude lead into re melted lead. Further kettles are used for making special grade lead as Refining and Alloying. Capacities available from 5 MT to 50 MT per day.
3.2 Ingot Moulds and Jumbo Ingot Moulds. Capacities available 20 Kg to 1500 kg moulds.
3.3 Ingot Casting machine available in semi-automatic and automatic versions with moulding capacity 10 MT/Hr and 15 MT/Hr.
Lead Oxide
4.1 Ball Mill
4.2 Red Lead Plant with Barton Pot
4.3 Litharge
Fugitive Emission
5.1 Fugitive Emission Control System for capturing of primary air pollution at the time rotary charging and tapping. Further we use to capture fumes from refining pot from refining pot with specially designed hood as per requirement in question.
Effluent Treatment Plant (ETP)
6.1 Effluent Treatment Plant for Acid Neutralization and treatment of the effluent water generated during washing of the crates. It is available in capacity per day and batch basis also
Contact Us
Regd.Office & Works: 20-D, Industrial Growth Center, Mansa Road, Bathinda, Punjab, 151002, India
Phone :2430051